Getting into Espresso can be quite intimidating and expensive, especially when there are machines and grinders in the market that range in the thousands of dollars. Most people will recommend you to start off with machines costing minimally $2,000 as they produce good shots of espresso. This is not inclusive of the grinder, which may cost at least $500 for a decent one that is able to grind fine enough for espresso.
"Getting into Espresso can be costly, with machines and grinders costing in the thousands"
However, we have found the perfect combo for anyone looking to get into Espresso, on a budget!
When you are first getting into Espresso, we recommend that you do not purchase something excessive, costing a few thousands dollars, especially when you are on budget! The last thing that you want to do is get stuck with a few thousand dollars, not being able to sell it off!
Get a simple, entry-level machine and find out whether making Espresso is your cup of tea (or in this case, coffee). You see, making Espresso isn't for everyone – you would need to wake up slightly earlier in the morning, go through the routine of weighing the beans, grinding the beans, pulling the shot, and then there's cleanup. This is of course assuming that you already know everything there is to know about making Espresso!
The art of making Espresso isn't as easy as it seems as well and can get a little technical. One has to know about what beans to purchase, how fine or coarse to grind the beans, how much beans to grind, the timing of extraction, and the total amount of yield (espresso) produced from the extraction, amongst other things.
But that is the beauty of making Espresso! Aside from the delicious cup of coffee you would get, the joy is from learning about espresso, and coffee in general. It is about trying new things such as beans, extraction, temperature, tamp strength, and playing around to see how these parameters affect the taste of coffee! It is about trying new beans to taste new flavours!
At the end of the day, it is about finding out whether an Espresso Machine fits into your life. That is why we recommend starting out with an entry-level machine such as the DeLonghi Dedica EC685.M
Introducing the DeLonghi Dedica EC685.M ($399)!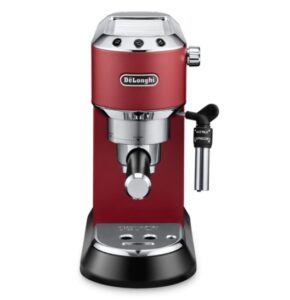 Well, that is certainly a mouthful! For convenience sake, let's just refer to the machine as the "Dedica".
Sitting at a Suggested Retail Price of $429, the Dedica itself costs less than $500! However, as we are an exclusive partner of DeLonghi, this machine is going for $399 ONLY using our special promo code! But this is not inclusive of the grinder, we will get into that later.
I will try not to get into the nitty bitty details and specifications of the machine, because at this price range, it rarely matters. What I think you would be interested in is the overall experience! The spec sheet can be found on the product page.
Without further ado, let's jump right in and see why this is the perfect Espresso machine for those on a budget!
The Form Factor
The external dimensions of the Dedica are as follows – (wxdxh) (mm): 149x330x303
Now pull out your measuring tape or ruler and see for yourself how small a machine this is.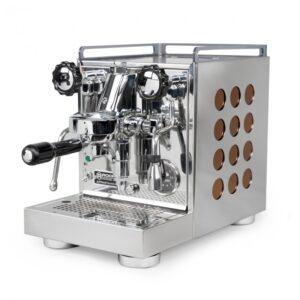 | | |
| --- | --- |
| Width | 330 mm |
| Height | 350 mm |
| Depth | 420 mm |
For those of you living in Singapore, our kitchen countertops are quite small, especially when there are other appliances like our beloved rice cooker laying around. A "proper" machine (Rocket Appartamento), like the one shown above takes up a huge footprint on our scarce countertop, as seen from the dimensions. And this is not taking into account a grinder, which would definitely eat up more countertop space.
Now if you're living with your parents like me, I'm sure your parents will constantly nag at you for taking up their counter space!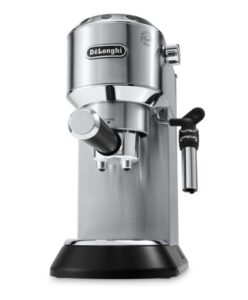 Let's go back to the Dedica. Even if you wish to keep the Dedica or store it somewhere else, you could easily lift it up (weighs only 4.2kg) and chuck it in the storeroom. With the Rocket Appartamento, ain't going to happen as easy. It weighs an astonishing 21kgs! The thought of carrying 21kgs back and forth from the storeroom would certainly deter anybody, even a big strong guy like me!=
The Usability/ Experience
I personally have a Dedica laying at home. It was the machine I started with after all.
Honestly, if I were looking to make a quick cup of coffee, the Dedica would be the go-to machine. Here's why:
The Dedica takes less than a minute to heat up! Yes you are reading this correctly, LESS THAN A MINUTE! The reason is because of their Thermocoil Technology which heats up as much water as you need, instead of heating up a whole boiler, which could take 10-20 minutes, depending on the machine.
As for making the Espresso, it is also a breeze, especially if you are a beginner.
The Dedica comes with 2 pressurized baskets which are meant for different amounts of coffee. Pressurized baskets are more forgiving when it comes to grind size and tamp strength. However, I opted for a naked portafilter, which is essentially a non-pressurized basket so that I can up my coffee game. We will be writing more on the differences between pressurized and non-pressurized baskets soon, so do keep a look out!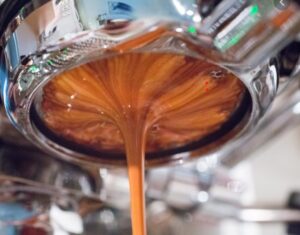 Operating the machine is fairly simple – once the portafilter is locked, hold on to the 1 cup or 2 cup button and it will start to work its magic. It even comes with a 2 second pre-infusion! Holding on to the button will set the timing for the extraction. Within seconds, espresso will start to flow smoothly from the machine.
Can it do Latte Art?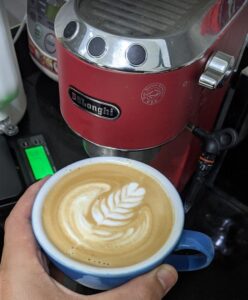 Well judging from the picture above, YES IT CAN!
As you can tell by the picture, the machine is VERY CAPABLE of steaming milk good enough to pour latte art!
In order to get foam good enough for latte art, you would have to take off the metal piece which is actually supposed to help beginners to froth foam. But if you already know how to froth milk, you can use the rubber nozzle by taking out the metal aid. This will give you more control when you are steaming your milk!
The Clean Up
Once you have pulled the espresso, frothed the milk, and did the pour, it's definitely time to clean up. Clean up is a breeze with the Dedica!
Purge the steam wand by flipping the valve, then proceed to purge the grouphead by pressing the 1 or 2 cup button.
And that is all!
An espresso machine needs a good grinder
When it comes to most budget automatic grinders, they all do not seem to:
Grind fine enough for Espresso
Grind consistent enough to get a good Espresso Shot.
The only way to achieve good grind is to get a grinder which would cost minimally $500 and above. 
But, we have found a grinder for just $80!
This hand grinder is able to grind fine enough for Espresso and well enough to produce a good shot. The coffee grind in the picture above is ground using the exact same hand grinder! Just look at the fluffiness and fineness of the grind!
An analogy we like to compare this to is the Laptop and Desktop analogy:
A $1,000 Desktop will certainly perform better and have better specs than a $1,000 Laptop.
Similarly, hand grinders are like desktops, you get better bang for your buck! They perform even better than some budget automatic grinders. 
How long does it take to grind the coffee?
The recommended dose for the Dedica is around 13 grams of coffee.
With this hand grinder, grinding 13 grams of coffee will take JUST UNDER 1 MINUTE!
In Conclusion
With this Espresso Machine and Grinder setup, you will definitely be able to make good Espresso and dive into the world of coffee with a budget of $500.
Once you get your workflow right, you can push out a cup of coffee in under 5 minutes!
To purchase the Dedica, please click on this link:
To purchase the grinder, you may click on this link:
You may also want to purchase other accessories which DO NOT come with the Dedica: