Have you ever wondered how actors and actresses look so professional on screen? The answer is actually learning the craft so that their actions look legitimate on camera.
We had the amazing opportunity to train Mediacorp Artistes Rui En, Paige Chua, and Bonnie Loo to prepare them for their upcoming long-form drama! We are not able to reveal too many details on this project as it is still undergoing filming, but what we do know is that it is going to be a soap opera lasting more than 100 episodes!
One thing that we can confirm however is that the drama would involve the aforementioned actresses operating a cafe. That is where we come in!
The Assistant Producer's goal was to have the actresses learn how to handle an Espresso Machine and prepare several espresso-based drinks which would be served to customers in the drama.
Our Basic Barista Workshop happened to meet their needs and after several rounds of discussion, a session was booked at our outlet.
The day of the workshop arrived and the first one to walk in was Paige Chua. Even with her mask on, we were mesmerized by her glamour and professional demeanor. She was slightly early, so we struck conversations about the drama and her experience with coffee. Surprisingly, she has had experience making coffee in her University days which were 20 years ago!
Soon after, Bonnie Loo arrived. Small, petite, and full of energy, she bounced in all ready to learn.
Rui En arrived shortly after. It was great to see her and have the opportunity to teach her once again. P.S. This is our second time teaching her! You can read more about the first time we taught her in the link below:
Once everyone has settled down, we started the lesson properly.
The first couple of minutes were spent going through a bit of coffee theory so that they understand what they are in for, and how Espresso and Espresso-based coffees are made.
To summarize what was covered, we went through:
What is an Espresso
The parts of an Espresso Machine
How to make an Espresso using the Machine
Frothing Milk
Pouring Latte Art
Differences between espresso-based beverages and how to prepare them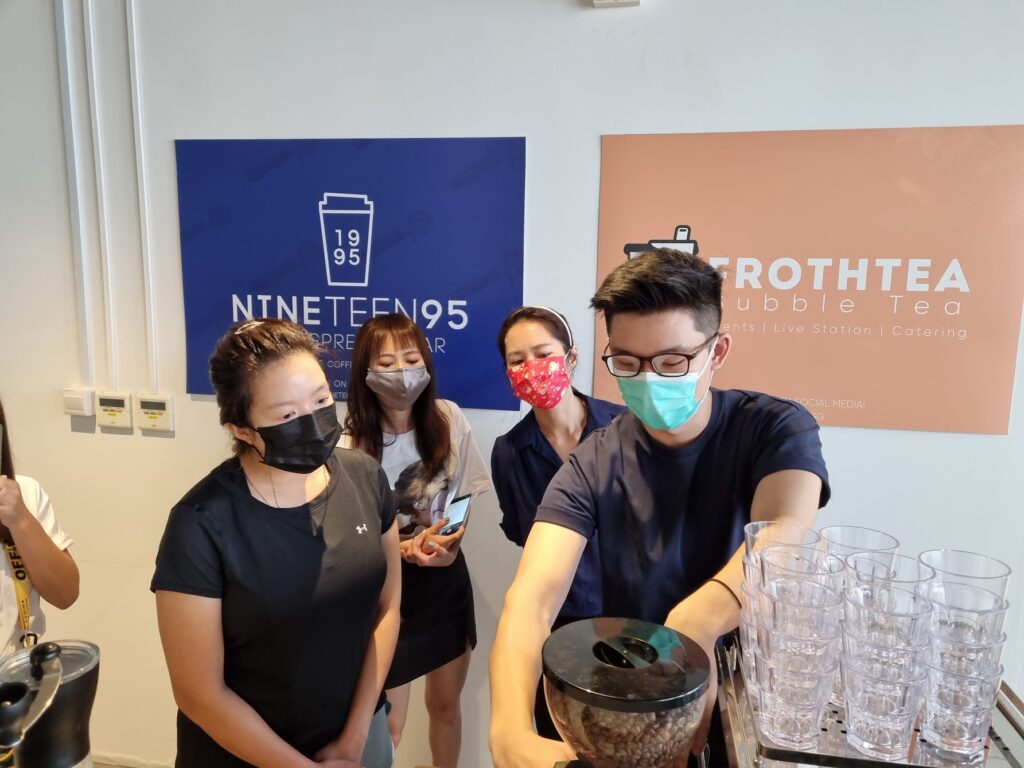 We went on to the Practicals where everyone gathered around the Espresso Machine.
Our Instructor Julian, went through the various parts of the machine and the Do's and Dont's of handling the machine, for safety purposes. Julian proceeded to give a demonstration without explanation on making a cup of Latte, just for the artistes to get a basic idea of the flow and process. Once that was done, it was time for the artistes to try their hand at using the machine.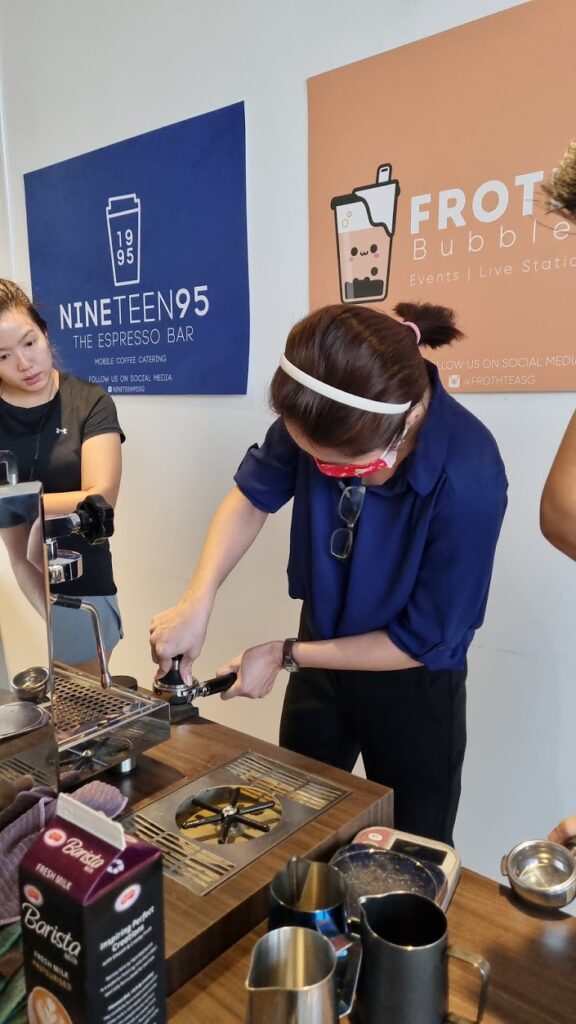 Paige was up first. Calm and poised, and with the most experience amongst the 3, she easily handled the portafilter – taking it out of the machine gracefully and bringing it over to the grinder. A little distribution, a light tamp, and in goes the portafilter into the grouphead. The brew lever was lifted and espresso started flowing out starting from a dark brown colour, into a lightish blonde – beautiful. She then took the milk pitcher and inserted the wand just under the surface of the milk and confidently turned on the steam valve. Most people would be afraid with this step, but her experience clearly shows. As she grasped the handle, looking for that perfect 45 degree angle, her knuckles were rested on the side of the jug to feel for the temperature. Once the milk was done, she started her pour. As the liquid flowed out, a shape appeared. What shape it was, nobody knows. But it was an absolute success for her, especially after 20 years of not touching the machine!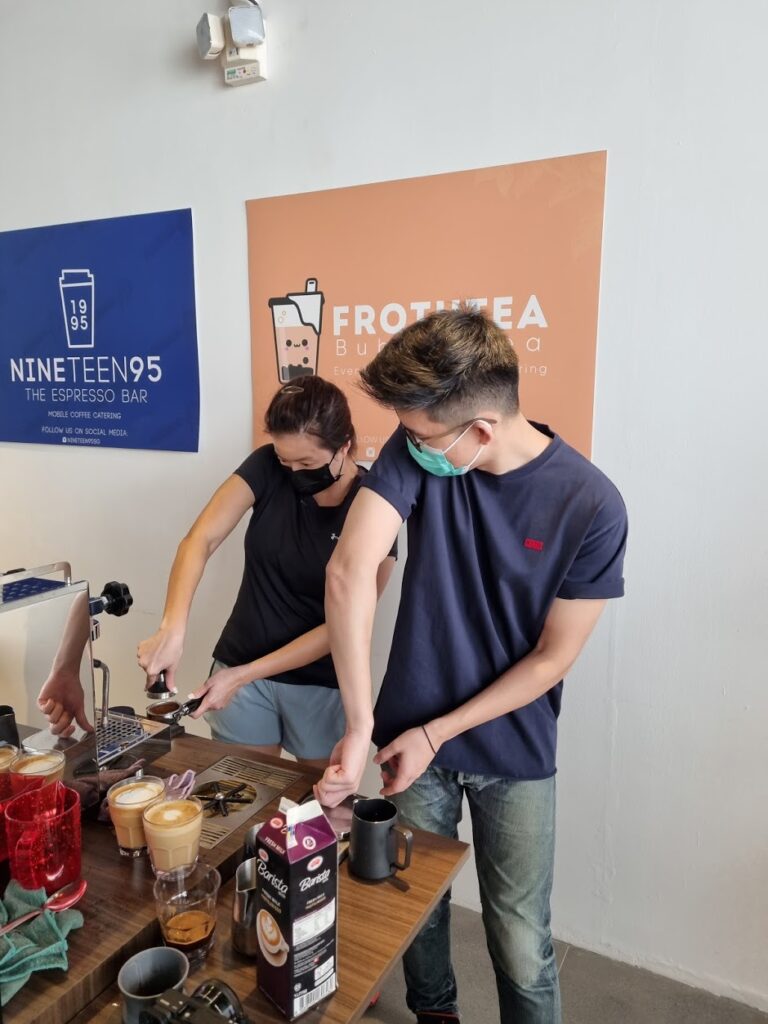 Next up was Rui En. Though we have taught her before, she only had experience pouring Latte Art. The machine was a totally new endeavor for her. While she was handling the machine, she was consistently asking questions with each step, displaying her genuine curiosity and willingness to understand the process instead of just "going through the motion". As it was her first time, we guided her along the way. Before long, espresso started flowing from the machine and it was time to steam the milk. She was slightly hesitant with the steam wand, as anyone would be. The thought of handling extremely hot equipment is daunting to many people. A little assistance from Julian and we had hot, frothy milk ready for pouring. As she began her pour, we stood back and looked, wondering whether she remembered what we taught her 3 years back. And to our absolute surprise, she did! A small heart-looking shape appeared!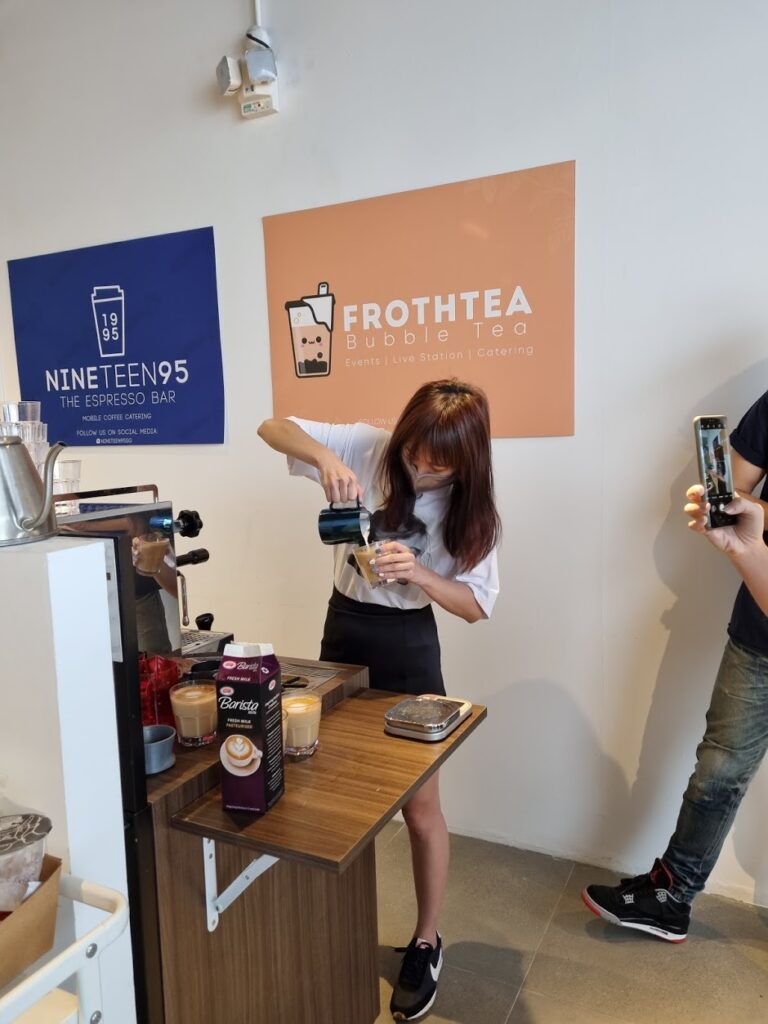 Last but not least was Bonnie Loo! Though not having as many years of experience as her veteran colleagues, her enthusiasm was unhindered. She breezed through the process after observing the veterans. She was particularly excited to pour Latte Art as she thought that it was really fun! Unassisted, she clearly looked the part as a barista though it was her first time handling the machine. After her first pour, she wanted to try pouring another time! Her enthusiasm was a breath of fresh air 🙂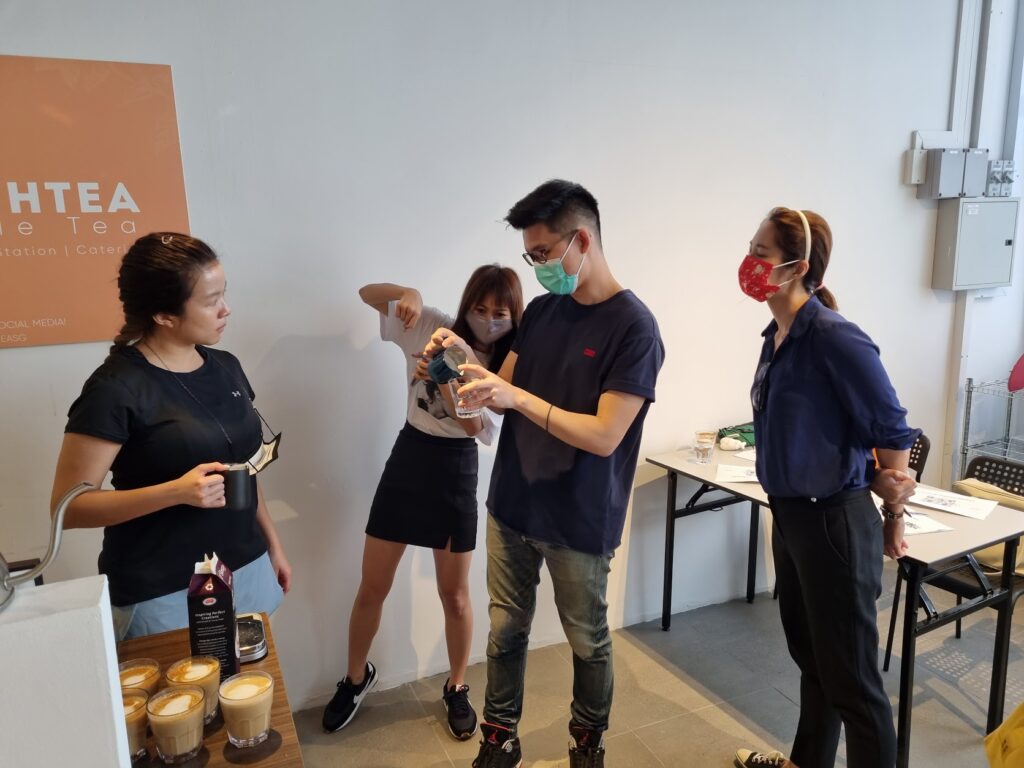 Once everyone has had their hand at using the machine, we ran through with them several more times, correcting minor mistakes and improving their posture and form so that they are able to look good on camera. Most importantly, we improved their workflow and the smoothness of handling the machine to ensure that they would look good on screen.
Overall, it was a joy to work with these stars; the combination of Paige's professionalism, Rui En's curiosity, and Bonnie's enthusiasm made teaching them a pleasant experience.
We wish them, the other casted artistes, and the crew all the best in their upcoming drama!
To know more about our other workshops and classes, click on this link!