1-FOR-1 LATTE ART WORKSHOP IF YOU ARE VACCINATED!
If you have taken your vaccination, or have already booked an appointment to, we are offering you a LIMITED TIME 1-FOR-1 PROMOTION on our Latte Art Workshop!
SAVE $120 instantly when you book this promotion!
The current vaccination campaign is a step forward to keeping us and our loved ones safe. Get vaccinated as soon as you can! More slots have already been opened up, so head down to your nearest vaccination center and get your shot!
EDIT: PROMO HAS SINCE BEEN FULLY REDEEMED AS AT JULY 2021
For more details on our Latte Art Workshop, please click the link below: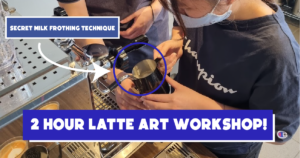 To book this promotion, drop us an email at enquiries@nineteen95.sg or WhatsApp us at +65 9061 1112 to book your slot today! Slots are RUNNING OUT FAST!
How to redeem this offer:
Contact us on either Email or WhatsApp
Show us proof of vaccination or an appointment date
*Bookings are only valid for the month of July
Like & follow our Facebook page and instagram. Links are at the bottom of the page.