Introduction: Who is Nineteen95?
Given the rise of the mobile coffee cart industry, Nineteen95 has been seen at various events and pop up locations. But who is Nineteen95? Nineteen95 is a Singapore based startup by two childhood friends. The business focuses on providing Mobile Coffee Catering in Singapore. The name of the business is derived from the shared birth year by the owners. The startup had always been just another idea for both our founders. Until one day when our founder, Uzen, decided to take a leap of faith and he started taking the first step to venture into the unknown.
The intent of this article is to showcase our owners and help you guys to better understand who we are and what we represent. Each of us will go through namely, our journey as baristas, our home coffee setup and lastly the expectations & aims of Nineteen95.
Uzen Tan, Founder
First up, we have our founder, Uzen.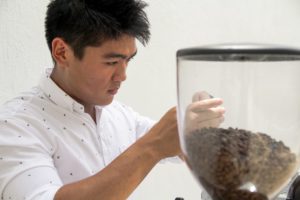 Coffee Journey
Uzen started out working at various food and beverage companies as well as cafes. Given his drive and commitment, he starting learn the ropes of the different roles that each company had to offer. He was thrown into the bar and was "groomed" to be a barista, with almost no knowledge.
With bare basics, such as how to operate a espresso machine and the parameters, mainly being dosage of espresso grinds used and time taken to extract a espresso shot, Uzen had to cope with the high demand for coffee during brunch hours at a busy cafe. At this point of time, coffee did not mean much that special moment where he had that cup of coffee. He was introduced to the world of flavours that coffee had to offer, this ignited his passion of coffee and Uzen started on his journey to master his craft.
Home setup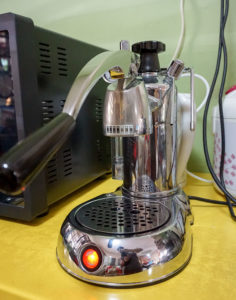 Uzen starting investing in his home setup when he was just a teen, just like any other teen, he did not have much capital. Hence, his first set of equipment consist of the Delonghi EC 155 and a Hario hand grinder. As time passed, he knew he had to improve and Uzen was in search of ways to pull a better cup of coffee. After saving up, Uzen managed to get his hands on a La Pavoni Espresso machine and Lelit PL53 burr grinder, which is his current set up at home.
You can read his guide on how he makes his daily cup of Latte using his La Pavoni here:
Expectation & aim for Nineteen95
In the next 5 years, Uzen expects the business to grow and eventually expand into a physical outlet – a Cafe. The original idea for the both of them was to start an F&B outlet. After much planning, they realized that firstly, it was too much capital for them to invest. Secondly, the risk involved was too high. And lastly, both of them, though having worked in various F&Bs, do not have the experience and network to start on a big scale. Therefore with Nineteen95 the Espresso Bar, it gives them an opportunity and introduces them to running their own business. And in the next 10 years, if the business does well, they hope to franchise the brand and compete with the established brand names like Cedele and other brand names.
Julian Lim, C0-Founder
Next, our co founder and head barista, Julian.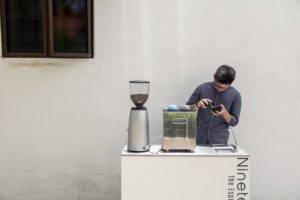 Coffee Journey
Julian starting his first part time job as a barista at a coffee chain. At that point in time, being a barista was just another job until  his colleague introduced him to latte art. Seeking a new challenge as a barista and pouring a beautiful piece of art was the what he needed to spruce up his mundane job. Given a lack of training, Julian resorted to picking up the fundamentals of latte art from online sources like YouTube. Countless of cups of coffee were made just so that he could get more practice. Being home trained, Julian went through a series of trial and error in order to acheive the skill to pour a simple heart. From here, everything was set in stone, Julian went on to greater difficulty in terms of quality of designs and achieved what he has today.
Home Set up
Having worked as a barista for several years while schooling, Julian did not need a home machine, or so he thought. Before he knew it, Julian felt a need to have his caffeine fix at home. At this time, Uzen had just upgraded his setup and as such, Julian was able to inherit Uzen's initial set up as mentioned. It is human nature to be lazy, Julian hated the fact that in order to get a cup of coffee, it takes him approximately 5-10 minutes to grind his beans using the Hario Hand Grinder. This spurred him to upgrade to the Compak K6 Grinder.
Another issue with us humans, is greed, nothing is ever enough and we are never content. Similarly, Julian grew tired of the Delonghi EC 155. Throwing caution into the wind, he decided to cash in his savings and bought the Rocket Cellini. This current home setup is also what consumers can see at our coffee cart!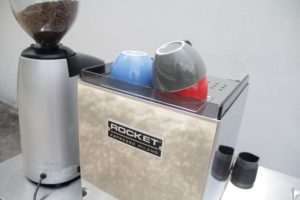 Expectation & aim for Nineteen95
As of now, Julian does not have much expectations of the business and recognizes that many startups fail. This does not mean that he lacks the drive or confidence to ensure the success of Nineteen95. The only expectation, he has for Nineteen95, is progress. The business must continue growing each day, in any way, from experience to finance.
Nineteen95 was intended to be a cafe. However, due to a lack of capital and experience, our founders started smaller with a coffee cart. Hence, Julian aims to grow Nineteen95 to a cafe someday.
SHARE this post on Facebook if you liked it! Don't forget to follow us on our Social Media! Take a look at our other posts! https://nineteen95.sg/blog/
Instagram: nineteen95sg
Facebook: Nineteen95 the Espresso Bar
If you are looking for mobile coffee catering services, do check out our website at https://nineteen95.sg ,drop us an email at enquiries@nineteen95.sg
Nineteen95 the Espresso Bar
Mobile Coffee Catering Singapore